By Ed Malik, A / September 6, 2022
In order to be digitally current, some selected members of the Nigerian Bar Association (NBA) have benefitted from the just concluded a two-day training workshop on the use of Cryptocurrency and Digital Assets organized by the Attorney General Alliance-Africa, (AGA-Africa) a non-governmental, political or profit oriented organization with operations across the globe and working in partnership for justice.
According to AGA-Africa, the aim of the programme was to help lawyers have access and leverage on global interactive opportunities available in digital economy, saying it will help the legal practitioners to find new ways to expand their legal skills and diversify their avenues for income outside litigation practice.
The theme of the workshop prestigious Federal Palace Hotel and Casino, Victoria Island, Lagos, was "Digital Asset and Cryptocurrency: Legal, Regulatory and Cybersecurity issues" and had carefully selected speakers who are experts in several fields; including law, finance, capital market, digital economy, cyber security and technology drawn from across the globe.
The workshop which was conducted through Webinar telecast was moderated by Punuka Attorneys and Solicitors, a foremost law firms in Nigeria and was represented by Mrs. Ebelechukwu Enedah who heads the Capital Market, Consultancy and Government Regulatory Department of the law firm.
The speaker for the opening session on Wednesday, August 31, 2022 was Mr. Daniel Awe, a payment solution expert, who led the channels solution delivery team of Access Bank Plc and later became the head of Africa FinTech Foundry (AFF), Nigeria.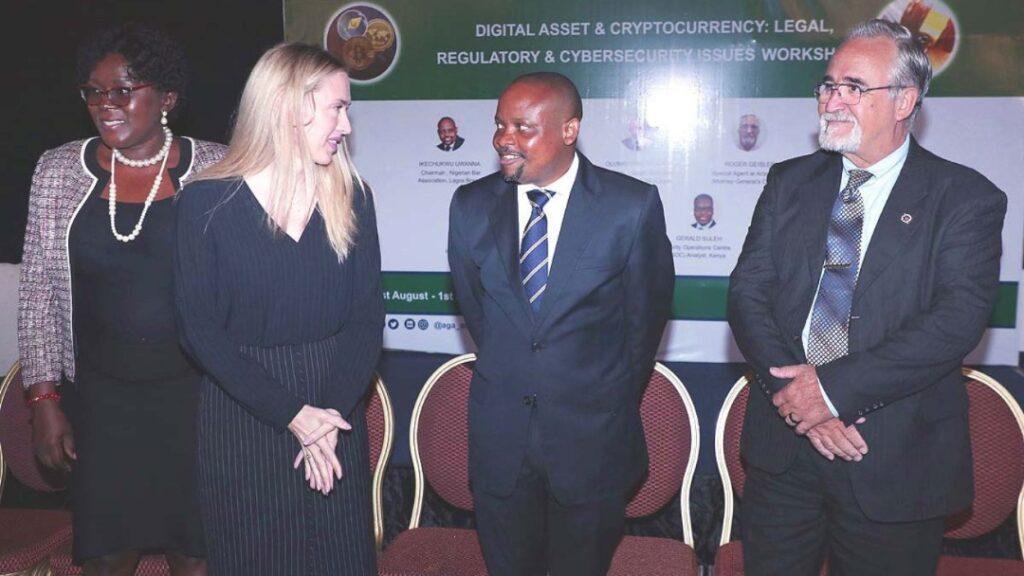 L-R: Partner, Punuka Attorneys and Solicitors, Ebelechukwu Enedah (left); Speaker/ Global Disputes Investigations and White Collar Defense, Jones Day, Heather Martin; Chairman, Nigerian Bar Association, Lagos Branch, Ikechukwu Uwanna and Speaker/ Special Agent at Arizona Attorney General's Office, Roger Geisler, during the opening ceremony of a two-day workshop on '' The Attorney General Alliance – Africa (AGA -Africa) in collaboration with the Nigerian Bar Association (NBA) in Lagos.
Awe handled a subtopic: "Overview of Digital Assets and Crypto Derivatives Ecosystem – Blockchain Protocol", where he explained that cryptocurrency is a digital currency involving parties engaged in digital transaction, adding that the payment platform also has a high risk of being hacked by internet fraudsters if one does not secure the derivatives in a proper transaction.
Explaining further, he said that, the purpose of digital currency as a technologically developed payment platform is to improve on the traditional mode of payments which is fast becoming obsolete, in the context of daily business, globally.
The payment expert disclosed that the recent launching of eNaira wallet by Central Bank of Nigeria, (CBN), has by implication made the Nigerian currency a digitalized token, making it now possible for private or corporate entity to transfer value from eNaira wallet to China, for example, or any country that trades with Nigeria and accepts her currency.
Speaking on investment possibilities that exists in the crypto business, he said an individual can invest in a Coin, of which there are over 10,000 Coins all over the world available for purchase. However, he stated that for any transfer made to become effective and have value, it must go on a Blockchain.
Awe explained that a Blockchain is a network of participants, a sort of an association that creates rules of operation but said that an individual can set up a private Blockchain for transaction between his global investments, as each asset is a token.
The payment expert therefore, challenged lawyers to look beyond litigation and buy into the tokenization of Digital Asset which essence is to protect all parties, though he admitted that there are still concerns about the safety of the investments on the platforms, which may even include government interference.
The second session of Day one had a second speaker in the person of Mrs. Isioma Nnenna Alexis Idigbe, who is head of media, entertainment and intellectual property at Punuka Attorneys and Solicitors and she spoke on the same sub-topic of Mr. Awe, but adding that Blockchain is an extremely transparent system, as the Anti Money Laundering Act regulates Digital Asset transactions in Nigeria.
With the enthusiasm generated in the first day, the second day, September 1, 2022, commenced with more junior and senior lawyers showing increasing interest in the workshop. The subtopics that featured in the two sessions of the day were "Understanding the Cybersecurity issues inherent in Cryptocurrency and other Digital Assets – Supervision of VAS and VASP", and "Promoting Innovation – Interplay of Law, Regulator, Law Enforcement Agency and Industry".
These two sub-topics were effectively treated by a Special Agent at Arizona Attorney General's Office, Mr. Roger Geisler, a facilitator from Global Disputes Investigations and White Collar Defence, Jones Day, Ms Heather Martin and a security expert and analyst from Security Operations Centre, (SOC), Kenya, Mr. Gerald Suleh.
Other facilitators who made remarks at the workshop included a Board member of AGA-Africa, Mr. Markus Green, Chairman, NBA, Lagos branch, Mr.Ikechukwu Uwanna and the chairman, Legal Education Committee of NBA, Lagos branch, Mr. Olumayowa Owolabi.