Gov. Emefiele (third from left), with NFF President Gusau (third from right), NFF 1st VP Felix Anyansi-Agwu (second from left), NFF Board Members Babagana Kalli (right) and Sharif Rabiu Inuwa (second from right), and NFF's Director of Finance and Admin, E. C. Kadiri (left)
By Ed Malik, A | November 24, 2022
ed@ddnewsonline.com
The President of Nigeria Football Federation (NFF), Alhaji Ibrahim Musa Gusau, in company with a couple of NFF Board Members, on Thursday paid a courtesy call on the Governor of Central Bank of Nigeria, Mr. Godwin Emefiele.
Gusau, who was accompanied by some member of the NFF Board, expressed profound appreciation to the CBN Governor for the support he has always given to the Federation.
The NFF President especially recalled the support and encouragement that the CBN Governor gave the previous Board, both in his personal capacity and corporately as an institution.
Gusau therefore, sought and enjoined the CBN to continue in the same vein of support to the new NFF Board.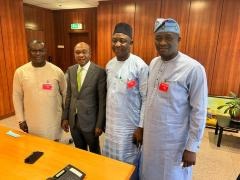 Emefiele assured the new team that he will continue to support the development programs, events and activities of the NFF, personally and also, the CBN as an institution.