The Edo State Governor, Mr. Godwin Obaseki, has charged the newly sworn-in Permanent Secretaries in the State's public and civil service to be a beacon of light and effectively contribute their quota in reshaping the State and placing it on the path of sustainable economic growth and prosperity.
The governor gave the charge when he swore in eight permanent secretaries (five females and three males) at the Government House, Benin City.
He said, "We have hired a lot of younger people into the Public/Civil Service of Edo State and they are looking up to you in terms of work ethics and productivity and beyond being made a PS today, you have now become a beacon of light to the new generation of Public/Civil servants that are going to reshape Edo State.
"You have earned your position by virtue of merit. I am sure you didn't give anybody money and no one called me to influence your appointment. Interestingly, those I called on to assist did not even make the cutoff mark in the exams. Your appointment is mainly based on merit and with this understanding, please make sure you continue on that part, at least, till I leave office I can guarantee that as long as you work hard, you will remain a Permanent Secretary in Edo State."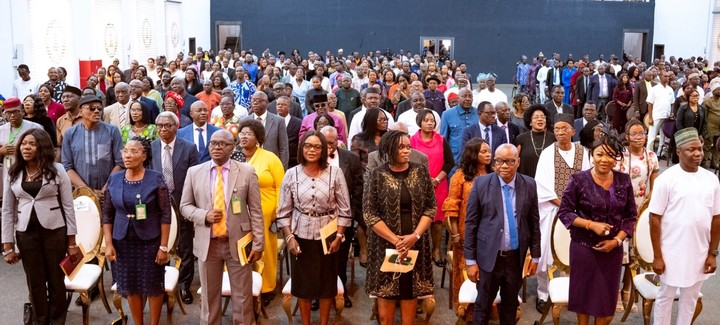 Obaseki continued: "The process of evaluation is a continuous process as some persons have to be dropped off as PS because they didn't perform during the last evaluation. The fact that you have been appointed PS is not a job for life, if you don't meet our annual review of service, you may be asked to leave for those who are ready to work harder. This elevation needs to be kept and the only way to keep it is to work hard every day you come to work.
"It's not a coincidence that appointment of senior civil servants is now based on merit because as an administration, we will continue to invest in you not only in terms of your work environment but try to improve and ensure it's the best in the Country.
"We are working to see how we can improve your condition of service in Edo State; nothing stops us from giving you better conditions of service, including better pay or higher salaries. As a government, we are looking at that but you have to help us by ensuring you improve on productivity so that the government can raise more revenue to meet its revenue obligations so that you also will benefit.
"All of you have worked very hard to get to this position you are today. I personally supervised the process where you have to go through two rigorous examinations with me. Many more passed the exams and had to meet with me but only those sworn in today passed the interview. You have shown competence and capacity to use technology."
Governor Obaseki said the world has gone digital and Edo State has to follow suit to remain relevant globally.
He stated, "We will continue to ensure that we are innovative in the way we deliver services to Edo people. The world has gone digital and Edo State can't be an exception. For Edo State to be competitive globally, we have to go digital. If you can't go digital, if you cannot work with technology, it will be difficult for you to operate in Edo State Civil Service."
On the transition to paperless government, the governor expressed delight that 90 percent of Edo State Civil/Public Servants are using the e-gov platform.
According to him, "When I received the report of the cut-off to the new EGOV platform, I was quite impressed as over 90 percent of our civil servants are now using the EGOV platform. That has put pressure on me to approve your memos and files.
"Please take this job as your own business; for the benefit of Edo and its future, it is worth it. We have shown dedication today as we prepare your retirement benefits six months before you retire. We are paying pensions and working hard to pay back 35 years of unpaid gratuity. The moment we clear all outstanding gratuities, we will consider and look at the compensation package for civil servants in the State.
"Training and retraining is a must that is why JOOPSA is set up to improve your skills and output at work. We will not promote Civil/Public Servants in Edo State without evidence of work and that they have gone through training. Nothing like automatic promotion anymore in Edo State. You must work hard and deliver as at when due for you to be promoted. You can be promoted if you do exceptionally.
"You are now the symbol of the new Edo Permanent Secretaries as you are the first set of PS we appointed since we moved to EGOV and you can describe yourself as a digital PS."
Obaseki added, "Congratulations to our newly appointed PS on attaining the peak of their professional career in the Civil/Public service and it's a thing to be proud of. This is the culmination of the process you started many years ago and your meritorious services have brought you to this point."
Responding on behalf of the new Permanent Secretaries, the PS of the Edo Ministry of Health, Stanley Osaruyi Ehiarimwian, thanked the governor for finding them worthy of the appointment, adding, "We will do our best to ensure improved productivity, efficiency, and effectiveness in the service as we will collaborate to make Edo great again."