…We must plan for our future, stop reliance on FG for direction, and resources – Obaseki
… Edo is one, we must continue to work for our progress – Oshiomhiole
The Edo State Governor, Mr. Godwin Obaseki; his Delta State Counterpart, Sheriff Oborevwori and the Senator Representing Edo North Senatorial District and former Governor of Edo State, Comrade Adams Oshiomhole and other stakeholders from the South-South region, on Monday, converged on Benin City, to chart a new path for the region's growth and development during a colloquium to celebrate the 60th anniversary of the Midwest Referendum.
The colloquium, with the theme, 60 years after the referendum, which way Midwest?' had in attendance leaders and other stakeholders from Edo, Delta, and Bayelsa States.
Obaseki, who noted that the region is still bedeviled by numerous social and economic challenges 60 years after the referendum, reiterated the need to plan better for the future of the people and attain accelerated development with a less cumbersome system of government that promotes competition among sub-nationals and discourages the constant resort to Abuja for direction and resources.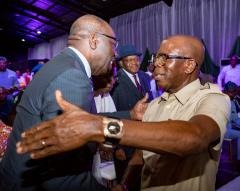 The governor in his welcome address at the event said, "Today marks a significant milestone in our history as we reflect on our journey as a people, celebrating our achievements, acknowledging our challenges, and renewing our commitment to the ideals that shape our present and future."
He stated, "Six decades ago, the people of Edo, Delta, and parts of Bayelsa State united in agreement for their self-determination, to chart their own course to political and economic freedom and break free from the chains of regional dominance.
"The Midwest Region in 1963, which was carved out of the then Western Region, three years after Independence and colonial rule, was a product of the bold character and love for freedom of our forebears. The region which later came to be known as Bendel State in 1976, was the first State in Nigeria to be created by a referendum, signaling our staunch belief in democratic ideals.
"It was the foresight, sacrifice, and struggle of courageous and notable leaders such as Oba Eweka II, Oba Akenzua II, Chief Dennis Osadebe, and Chief Anthony Enahoro, among others that secured the creation of the then Midwestern Region. They had braved the odds and battled to create a distinctive political identity for a people who have always loved and cherished their freedom, culture, and creative energies."
Obaseki added, "The story of the Midwest Referendum is one of unity, resilience, and the power of collective action as it marked the beginning of a new era with which we took control of our destinies and that resulted in growth, development, and progress. It is a story that continues to inspire us to this day, reminding us of our capacity to overcome challenges, transform adversity into opportunities, and forge a better path for ourselves."
The governor continued: "Sixty years after the referendum, we are still bedeviled with numerous socio-economic challenges, which require a reset of the institutions and structures that propped the region up in the past.
"This is why we have undertaken holistic reforms of our institutions in Edo State in the last seven years. We have advanced reforms and innovations in various spheres of the economy that have opened Edo up for investment.
"We must continue to work together to overcome challenges, build on our successes, and sustain collaborations toward building a strong and virile region."
He queried, "An important question to ask is: Are the conditions that led to the Midwest Referendum in 1963 not staring us in the face in Nigeria today? Would we not be able to plan better for the future of our people and attain accelerated development with a less cumbersome system of government that promotes competition among sub-nationals and discourages the constant resort to Abuja for direction and resources?"
The governor further noted, "Nigeria is in dire straits today as a result of the poor handling of our economic fortunes. And with the removal of the fuel subsidies among other political and economic challenges, perhaps the Midwest option may just be what we need to fall back to in order to stand a chance at survival and set a new course for economic rejuvenation.
"I extend my deepest appreciation to all those who have contributed to the growth and development of our dear Midwest region, now Edo and Delta States. We must continue to work together to build a State that stands as a beacon of progress, a model of good governance, and a testament to the indomitable spirit of our people."
The Governor of Delta State represented by his Deputy, Monday Oyeme, said," It is worthy of note that when the people decide on a stand, nothing can change it not even intimidation. 89 percent of people voted for a referendum to opt-out from the western region to form the Midwest region without violence as the people's choice prevailed."
Oshiomhole, who described the event as apt, thanked Governor Obaseki for organizing the event and bringing stakeholders from Edo, Delta, and Bayelsa states to chart a path for their future.
He said, "This is the kind of event that is needed as it will bring the unity we need for the progress of our people. When I received the invitation letter personally signed by you, I said to myself that I must be here to solidarize and support you as Edo is one.
"There are a lot of young people here in this hall and this kind of event will enable our young people to know when the Midwest was created and formed. The Midwest is truly the only region of unity that came together to fight for its freedom."