World Habitat Day 2023 saw Edo State Governor, Mr. Godwin Obaseki, emphasizing the importance of environmental protection and preservation for a sustainable future in key message to mark the event.
Governor Obaseki stressed the need for all citizens and residents of Edo State to take responsibility for protecting and preserving the environment. He highlighted the consequences of neglecting the environment, such as flooding, erosion, and landslides.
The governor encouraged parents to make it a tradition for their children to plant a tree every year to celebrate their birthdays. This initiative aims to involve children in environmental conservation and could result in one million trees being planted annually if all eligible children participate.
Obaseki acknowledged the challenges posed by climate change and deforestation. He emphasized the urgent need to address these issues to ensure a sustainable future, mentioning the potential transformation of the rainforest into a savannah due to continued deforestation.
The government is taking steps to address environmental concerns. Governor Obaseki mentioned the development of a 30-year Urban and Regional Master Plan, which will become a legal framework to guide environmental protection efforts beyond the current administration.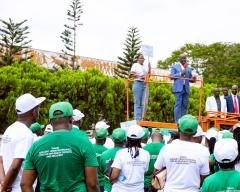 The governor called for the support and collaboration of the community, professionals in the built environment, teachers, and government workers to work together to protect the environment. He emphasized that it is not just the government's responsibility but a collective effort.
Governor Obaseki stressed the importance of cleaning and greening the environment, highlighting that this is a serious issue that requires immediate attention.
The event took place on the occasion of World Habitat Day, celebrated every first Monday in October. It serves as a reminder to reflect on the state of the habitat and the need for collective efforts to ensure a habitable environment.
The Commissioner for Housing, Urban and Physical Planning, Isoken Omo, emphasized that Edo State is known for its cleanliness, and it is crucial to protect this reputation by preventing environmental negligence.
Governor Godwin Obaseki's message on World Habitat Day 2023 underscored the importance of environmental protection, community involvement, and the need for collective action to address environmental challenges and ensure a sustainable future for Edo State.