…say devt of new State correctional centres 'll help to reform inmates, decongest facilities
Governor Godwin Obaseki has commited to collaborating with the Chief Judge of Edo State and the judiciary to address the issue of high numbers of awaiting trial inmates in correctional facilities in Edo State.
Governor Obaseki expressed concern about the high number of awaiting trial inmates in Edo State's correctional centers and pledged to work closely with the Chief Judge and the judiciary to address this issue. He mentioned a willingness to allocate resources to support these efforts.
The governor mentioned plans to take advantage of new constitutional arrangements to build additional correctional facilities in Edo State. He stated that land has been acquired, and designs are in progress. The Attorney General of the State will be discussing the plans with the Chief Judge.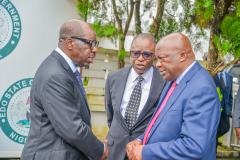 Governor Obaseki expressed gratitude to the judiciary for its role in maintaining law and order in Edo State. He highlighted the importance of the judiciary in upholding the rule of law and maintaining peace and stability in the state.
The governor commended the judiciary for adopting technology in its operations, making sessions virtual and facilitating the use of technology for memos and approvals. He pledged continued support for the judiciary in embracing and utilizing technology.
He said, "Advancement in technology is not restricted to Benin City alone as we have laid 2,000km of fibre optic connections across the State as it will help us deliver high connectivity to all your Courts in Edo State. We are delivering technology to our schools, hospitals, and also consultants in America offering telemedicine services to our people."
Governor Obaseki's administration has focused on infrastructural development, including the construction of new courts and the laying of fiber optic connections across the state to enhance connectivity in various sectors, including the judiciary.
The Chief Judge Justice Daniel Okungbowa, invited the governor to the 2023/2024 Legal Year, emphasizing the importance of cooperation between the executive and judiciary in the past year and seeking further collaboration in the future.
He said, "We want to thank you, Your Excellency, for the cooperation in the past year and solicit for more cooperation in the coming years. You have done so well in terms of infrastructural development as new Courts have been built and also support in improving the judiciary technology-wise."
Importantly, the key takeaway is that Governor Godwin Obaseki and the Chief Judge of Edo State are working together to improve the justice system, reduce the backlog of awaiting trial inmates, and enhance the use of technology in the judiciary. Their collaborative efforts aim to ensure the rule of law and provide access to justice for the people of Edo State