By Prof. Danny Gwira / Posted from Ireland
PREAMBLE
Back in the 80s, after African Goju made its bold entry into Nigeria's martial arts scene, I began writing articles for some of the nation's foremost Newspapers, preaching about fitness and especially the unique qualities of my martial art and self-defense style, stressing among other things the facts that as Africans, we've always known how to fight, noting that many of the scripted techniques contained in traditional martial arts styles are not really practicable and applicable here. Primarily because of the way the African society and the power structures operate here, that commonsense must form the basis of every response Hence resorting to deploying those techniques and skills must be done only if and when there is an extant threat to life and property, that those actions will also not further jeopardize one's safety, and above all, that such actions must be carried out within the acceptable boundaries defined by the respective countries' statutes.
Those articles were widely received with acclaim and they went a long way in positioning and establishing African Goju as the system of contemporary self-defense that it is because, in the conception of the art, the understanding of the evolving nature of society, terms of engagement and their place in the dissemination of its ideologies and a vast knowledge and nuggets of security sense, based on today's realities, then also the necessary combat skill-sets, were of foremost importance.
As I recapitulate the spirit of that era with a new set of articles, I will commence by first laying out a brief history of African Goju and the global Goju system, to help readers appreciate the background that birthed this unique and eclectic style.
WHAT IS AFRICAN GOJU?
After years of formulation, I introduced the African Goju concept in 1985 in Accra, Ghana (South American Goju, which I conceived in Cochabamba, Bolivia, followed shortly after in 1986). Prior to that time, I had been and was still a student of the founder of Chinese Goju, Professor Ron Van Clief for several years at his New York-based University of Martial Arts and Science. Actor and five-time US Karate champion, he was also a world-acclaimed instructor, who choreographed fight scenes in Bruce Lee's films and had also trained notable figures like George Benson, Taimak, and Iron Mike Tyson, among others.
Having observed my 'very different' African fighting style, as he described it, he suggested I develop a fighting system that integrates my African style of wrestling, and I took up the challenge, because, after several years of practicing boxing, fencing, and seven other martial art styles, I came to realize that most techniques found even in Chinese Goju were either too dangerous or not applicable to Africa, besides, they never taught the student when to or not to apply a technique; a very vital consideration in Africa generally. In the absence of equal rights and justice, one never knows what a supposedly harmless slap inflicted on an opponent would lead to.
The barbaric nature of African society made certain techniques in martial arts, like kicking the groin or poking the eye (which would lead to permanent disability) obsolete because of the consequences like police brutality and lynching by the crowd. From experience, I knew that over and above knowing self-defense techniques, in Africa, it is imperative that one knows 'when' to use them, especially knowing that a fighter (boxer, wrestler, martial artist, etc.) is viewed as a 'weaponized' citizen because of the inherent knowledge and abilities derived through his or her training, and the police and by extension, the law, as such consider them dangerous.
The laws of self-defense are not really applicable in Africa. It does not matter who started the fight, it's winning that counts and the African Police are extremely sympathetic to the one who is most hurt. The extended family system also makes it extremely risky and dangerous to inflict any kind of damage on a person because you don't know who is related to whom in Africa. The reality of this is that if you beat up someone who is a friend to the second cousin of a colonel in the military, who happens to be in power, then you are in serious trouble. The law may not help you, and even if and when it does, you will have been subjected to untold hardships in a police cell and may have incurred huge receipted and unreceipted expenses. In essence, you may have won the fight, but you lost the war.
Africa, being made up of very small countries, it's obvious that everybody knows somebody important. Therefore, you have to know when to fight or not to fight, when to apologize or to run away. At other times depending on your connections, you can inflict severe damage on a person and still get away with it. Above all, AFRICAN GOJU teaches you to fight only if you can win and to fight only in your own environment where even the police would be on your side.
With all these at the back of my mind, I developed African Goju as a style that teaches you to be tough in order to be able to withstand punishment, because there are times you will be slapped or beaten by someone and there is nothing you can do about it.
African Goju is a mixture of Eastern ideology and Western ingenuity with African reality and common sense. It is the last word in self-defense. African Goju is not what you can give but how much you can take. Everybody is dangerous. If a footballer kicks your shins or a tennis player slaps you with his tennis arm he could inflict severe damage on you and neither of them do karate.
So, the emphasis on African Goju is on conditioning, strength, power, and an iron will. If you can take punches, kicks, or any pain in your body, you will not be afraid of anybody. Imagine being able to take a slap and then laugh at the person who slapped you! Imagine also somebody picking up a beer bottle and smashing it on your head and you just laugh at him! Wouldn't he be scared of you and run away? This ability to take punishment and still smile, when coupled with the most effective techniques, which are a mixture of Chinese Goju, Judo, and Karate makes African Goju the most realistic and dangerous system in the world.
If you are not tough mentally and you are not prepared to experience pain you cannot do African Goju. African Goju is not for cowards, or for those who are weak-minded. It's for the toughest of the tough. It's not a sport. It's a way of life and being that way, you have to keep what you are taught a secret. African Goju is about using your brain – common sense – you fight to win because self-defense concerns not only your physical being but your property, reputation, family, country, and anything else that you love and care about, which were you to lose, would affect your life and in some cases make life not worth living.
African Goju is a way of teaching you how to stay alive and win any battle you fight and should you be in a position where you will be beaten, at least to be able to take any punishment and survive, so that you can live long.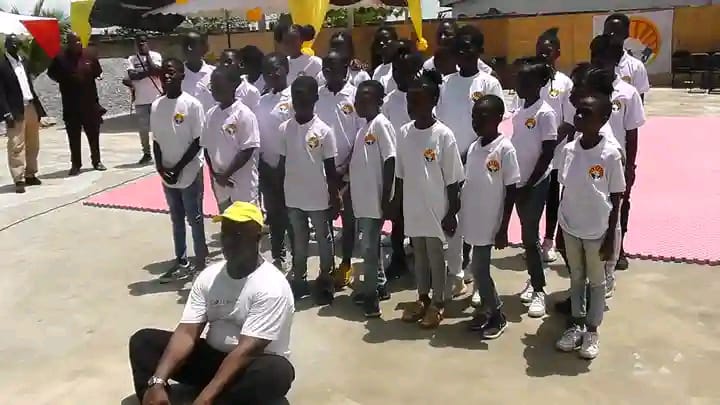 In Africa, it's survival of the fittest!
Our Martial Arts Institute anthem goes thus:
We're from the Martial Arts Institute
We begin not to end, but to continue
Even though we're strong
We'll not fight if we're wrong
But we'll fight, fight
To protect our rights
African Goju is the name
Self-defense is the game
And we'll Roarrrr!!!
And we'll Ssssss!!!
Till we can't no more
And we swear not to abuse
Our country's laws
AFRICAN GOJUS ENTRY INTO NIGERIA
Chinese Goju, our mother art, first entered Nigeria in 1980 through Henry Ansah-Ofei. Solly Matlou later joined him and together they opened the eyes of the Nigerian martial artists who were used to Taekwondo and Shotokan. Henry was then helping Jacques Mbom, one of the fathers of martial arts in Nigeria, with his Shotokan teaching. Solly however taught many people privately and was responsible for the opening of many clubs. He also helped Jacques and Henry at clubs like Ikoyi Club and Queen's College Yaba.
I trained Raymond P. Ezumas in Chinese Goju and awarded him and four of his students the Black Belt. He eventually got his 2nd Degree Black Belt even though he continued teaching Shotokan as well as Chinese Goju. I also went around all the Taekwondo and Shotokan clubs showing them my tactics, and though I used to go to the US regularly, I always returned to Nigeria to continue teaching Raymond and his club at the Airport Hotel and the Police College in Ikeja.
African Goju was first taught in Nigeria in 1985 at the Bodyshop owned by Pamela Mojekwu and Surulere Night Club. David Ayutsede and Mac Iyamu were the first students. Mac however gave up at Brown Belt but David continued, later becoming the Chief Instructor. Jaiye, son of Punch Newspapers Chief Aboderin, used to come from school in England to learn African Goju, returning with his knowledge to teach his fellow students there, thereby sowing the seeds of African Goju in England.
All in all, there were over 100 students, including the likes of Richard Mofe-Damijo, etc., practicing African Goju. Emmanuel "Hardman" Nwaegise the policeman also had over 100 students training at his club in Port Harcourt. He was eventually awarded the Second Degree Black Belt.
The Body Shop became the center of martial arts and students from other styles came to seek my advice and fighting tactics, at one stage, I was putting up a show every month during the Goju Records Nights, a show we stage at the famous Stadium Hotel, Surulere, and which attracted great media interest.
But it was not until 1987 however, that African Goju was officially recognized by the University of Martial Arts and Science, New York, USA. In 1986, I also introduced a second style called South American Goju, which was also officially recognized by the University. This makes me the first man to have two globally recognized systems of self-defense, and with their recognition, the Goju concept has now come a long way from the original style called Goju Ryu.
Solly Matlou was the first full-contact World Champion eventually losing his title on a "People's Decision" to David Ayutsede in 1988. David later went to Holland and started teaching. Solly returned home to South Africa and now has students there and in Botswana.
1985-1989 were exciting years for African Goju in Nigeria because there was high media interest in the art. I authored a weekly in the now defunct Concord Newspaper and in Vanguard Newspaper, called "The Goju Revolution", and an aerobics program on national television called "Body Workshop" (with Pamela Mojekwu).
At this time, Nigeria had become the center of Goju and I proved himself the "most dangerous man in Africa".
African Goju became so popular that it spawned phrases like "If you mess around, I'll Goju you", meaning "I'll beat you senseless". I was the first to break bottles on his head and have a car drive over me as an art, thereby frightening all other martial artists when I challenged them to a fight. My reputation was further enhanced when I knocked out Solly Matlou into a coma with a "Tiger Tail" throw during a demonstration on television. This incident was reported in all the newspapers and Goju became feared.
I finally left Nigeria and returned to Ghana in 1989, at which time I was training members of the Ghanaian Commandos (Ohio-Michael Elakhe – now Great-Warrior/Grandmaster, the current Chief Instructor of African Goju in Nigeria, was a part of the training squad), during the tenure of Jerry Rawlings and it was at a show the Commandos put up to present their training accomplishments that I had a Nissan Patrol jeep filled with children, drive over my stomach.
African Goju had now bloomed so much that in 1991, the famous WBC World Super-Feather Weight champion, Azumah 'Zoom Zoom' Nelson approached African Gojus Warrior Michael Boateng Mensah to help him prepare for his memorable fight against Jeff Fenech of Australia. Azumah had serious difficulty with his punching power, so Michael and the boxing coach Jose 'Buffalo' Martinez (also the then coach of Julio Cesar Chavez) began a training regime for him. Midway through the training, Jose left for Spain so Michael continued with the training regime for seven weeks. Upon his return, Jose discovered he was punching harder, better, and faster, and going to Australia, he obliterated Fenech to retain his world title.
When I returned to Nigeria in 1990, my reputation was further enhanced when at a demonstration at the National Stadium, a car was driven over my stomach. During that same demonstration, Celestine Ifetu (now late) African Goju Nigeria's very promising Mike Tyson-like National Heavy Weight Champion took only 30 seconds to beat up the Taekwondo champion so badly that he ran away from the arena (chased by Celestine), to avoid a further beating. Celestine later left Nigeria and launched his African Goju club in Russia, but unfortunately passed away a few months before Ohio-Michael was to join him to help in the strengthening of his new club.
African Goju has come to stay in Nigeria and is currently headed by Great Warrior-Grandmaster Ohio-Michael Elakhe, who is making bold steps in establishing the art with a mix of the systems curriculum and security content which are based on studies and data available from his security and legal contacts!
BRIEF HISTORY OF GOJU
In the early part of this century an Okinawan master called Chojun Miyagi created and taught his art; Goju Ryu, at Kyoto Imperial University, introducing the Japanese to both the hard and soft elements of a style of Karate known as GOJU. Ju means 50 in Okinawa- 50 diversified hard and soft techniques of hand and foot strikes formed the basis of Goju Ryu. By 1930 when Professor Gogen Yamaguchi organised the first Goju federation, Goju had become thoroughly Japanese.
In 1955, Master Peter Urban, after a long study in Japan under Yamaguchi, Oyama, and Richard Kim, brought the Goju style to the United States and organized the first American Federation of Goju Stylists under the title U.S.A. Goju.
Masters Frank Ruiz and Harry Rosenstein, disciples of Master Urban, broke off from the parent organization in 1965 to start the Nisei Goju system (Nisei means second generation). In 1973, their student, Ron Van Clief, founded and organized Chinese Goju in America.
Chinese Goju was a further development in the martial arts in the United States since it incorporates the diversity of many related martial arts around the central core of the Goju style. It is a total martial arts concept combining Eastern and Western philosophies. It also combines Chinese and Japanese ideology with American ingenuity, teaching fluidity and flexibility of both mind and body for full human development.
That done, let me state some of the cornerstone ideologies that undergird the African Goju philosophy of self-defense.
10 AFRICAN GOJU SIMPLE RULES TO OBSERVE BEFORE ENGAGING IN A FIGHT
ENVIRONMENT: Are you in the right area? Do you know the police station? Do you have friends nearby who would come to your aid in case of trouble? If you are in a strange environment you do not fight.
REPERCUSSIONS: Are you prepared to end up in a police station…from there to court or jail, in case you are found guilty? Make sure you are legally right before fighting. If for example, you owe your opponent money try to talk him out of the fight. You are legally wrong even if you win the fight.
MONEY: African cops like money! The jails and police stations only cater well to the rich. The moral is clear. If you are broke don't fight. What if you end up in a hospital that refuses to admit you unless you first pay its registration fee?
UNIFORMED MEN: Don't even bother to argue with anyone in uniform; whether it is a soldier, policeman, or traffic warden. You are not fighting the man but the uniform and all his colleagues would attack you. Even if a uniformed man hits you, don't hit back. You cannot fight the system!
ATTIRE: Make sure you are wearing the right clothes for a fight. Try out all your clothes beforehand and make sure the ones you go out in are all registered fight-worthy!
CRITICAL DISTANCE: If the man is yelling at you and threatening you then make sure he cannot hit you. If he is close enough to hit you then move back and be on your guard.
CHANCES OF WINNING: Are you sure enough of your fighting skills to defeat your opponent? When did you last work out? If there's a chance you could lose – you will.
MENTAL AWARENESS: Ever been drunk? Tired? High? Sleepy? How can you fight? You will be beaten! If you are not mentally aware, then you should avoid fighting. Apologize and wait for him at another place and time.
PHYSICAL PREPAREDNESS: Are you sick? Do you have an upset stomach? Sprained ankle? Toothache? Any physical defect can lose you the fight. Apologize and keep moving!
ECONOMICS: "Why fight a man when your shirt is worth more than he is"? Any fight however harmless will cause some damage. Make sure that you will not damage anything expensive like your gold watch or silk shirt because of a fight with a taxi, bus, Marwa, or okada driver over a few Nairas change. Only fight when all those rules have been mentally observed. It should take less than a minute to mentally calculate your chances.
In subsequent write-ups, I will explore other aspects of African Goju, and its relevance and appropriateness as a security component in today's world where attack and self-defense have evolved in leaps and bounds from what was obtained when the fathers of martial arts in the orients conceived the fighting styles.
Thank you and keep reading!!!
Roarrr… Ssssss!!!
Goju for God … Thank God for Goju!!!
Prof. Danny E. Gwira- PhD Martial Arts Education (RVCS), is a 10th Degree Black Belt-10th & Degree Red Belt holder, and the founder of the Martial Arts Institute, Accra, Ghana, African Goju & South American Goju systems of martial arts self-defense.. He wrote from Ireland and can be reached via info@africangoju.com